Playgrounds are one of the places that most children frequent, whether it is a childcare, an outdoor playground, in a restaurant or at home. In a playground, there should be good and new playground equipment so that it can prevent any possible incidents where the equipment fails to function. Playgrounds have many advantages to children, physically, mentally as well as socially, helping them to grow well and healthily. Here are some of the benefits that your child will gain simply by visiting the playground.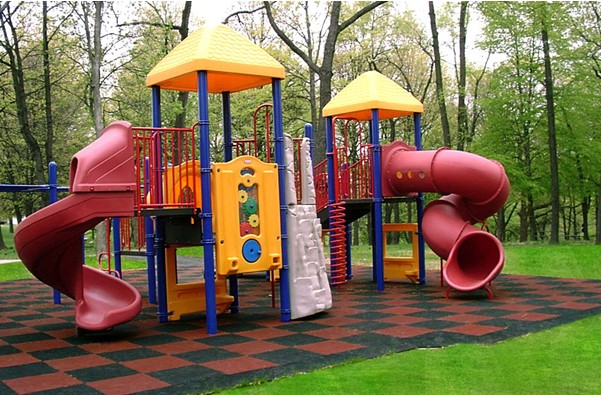 By frequenting visits to the playground, children will be able to move and have fun at the same time. Slides provide climbing exercise for the legs; bars exercise arms and shoulders; jungle gyms strength arms, legs and shoulders; and all the equipment together encourages children to run from one piece to another. This gives children a healthy amount of exercise, which would definitely do well for them as they need a lot of exercise to release their energy. If they do not exercise, they may turn to becoming obese, which is a common health problem that many people have.

Playground equipment helps to develop a toddlers' brain as they learn about the world through motor activities and sensory experiences. In the first six years of a child's life, the development of their brain is extremely important. The more children exercise their sensory and motor skills through using frequently visiting the playground and using its equipment, the more brain-neural connections they create, hence helping them to develop their brains. This allows your child to learn through a better way as compared to them using electronic devices to learn.
Children would be able to be around each other and interact together. Since many children visit the playground, they would need to share the playground equipment, hence learning to communicate with each other, take turns and exercise self-control by waiting for the equipment they want to be available. Whilst waiting for the equipment to be open, they can strike up conversations and play together on other objects. This helps to benefit not only themselves, but to the country as a whole by not differentiating each other by their races and economic levels.
The playground is also safe to use without shoes as well. Most playgrounds are covered with rubbers flooring, making it safe for children to run around without hurting their legs. If they accidentally stumble and fall, they would not get hurt as they would fall on the rubbers flooring instead of on the ground. They ensure safety on the playground and can help to soothe parents of injuries attained from playgrounds.
Many playground equipment made today are made out of recycled plastic, making it maintenance free as it doesn't rot, corrode or splinter. It is also UV resistant with little colour loss due to direct sunlight, resistant to graffiti, insects and algae. You would not need to fret for your child's health depleting due to frequent visits to the playground. With so many benefits of letting your child use the playground equipment, there is close to no reason why you shouldn't frequent the playground with your child.
Author: Bayu
This author has published 24 articles so far. More info about the author is coming soon.