A major component to safe Commercial/Residential premises is a Fire Suppression System. In its name, the purpose of the system is to suppress any detection of fire in the earliest stages possible. There are many technical fire equipment that is mandatory in a building such as fire sprinkler systems, fire hose reel, smoke detectors and so on.
All premises, whether a small establishment like a restaurant or your home to large industrial labs, IT project buildings or office buildings under the building law requires all forms of fire protection methods. In the event of a fire, occupants of a building are in a life or death situation which is never what we want to face.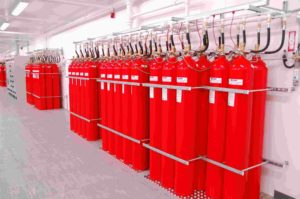 Therefore, when designing a building, it is crucial to take a proactive approach to reduce the spread of fire when we have the technology to do so. The first step to combat a fire is detection and a Fire Suppression System is our first line of protection. Read more about the NN100 Suppression System here.
What is a Fire Suppression System and how does it work?
A fire suppression system is a built in system to a building that consists of a group of units that is designed to extinguish fire through the application of a substance.
During the initial stages of a fire, a fire suppression system is able to detect through smoke, heat or other warning signals of any danger emerging. The brains of the system will act on the signals and create awareness of a fire with an alarm to occupants in the building. Simultaneously, the system will take the first step of action to prevent the spread of fire by releasing a substance into the environment. In most systems, this external substance is released automatically once the warning signs of a fire are detected. Alternatively, it can be done manually through a pull of a lever or some other buttons/mechanism by an officer in the building upon the alert by the system.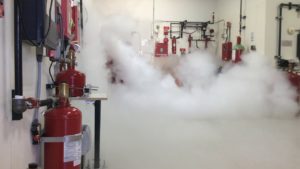 Different Types Of Fire Extinguisher
There are multiple variations to the design and fire protection mechanism used in the system. Depending on your premises – in terms of size, use, operations, number of people, working hours and conditions, we would need to choose the right and most suitable method of fire protection. For example, for a kitchen that is fire prone and is stocked with wet substances, usually the fire will be fueled by grease or hot oil. Therefore, using a wet substance to be released by the fire suppression system would be most ideal – just like how water can cool off fire on a hot stove. This is one type of external substance that is used – wet substances in the form of mist. Other options of protection chemicals include;
Clean Environmentally friendly agents for premises like offices with working occupants that are not protected in the event of exposure to strong chemicals
Carbon Dioxide which breaks the heat element of the fire cycle, used in establishments that require fast turnover due to high speed operations. Carbon Dioxide is easily cleaned and has the least amount of clean up time after an occurrence
Hazardous gas, chemicals and liquid used in Industrial plants. The effects of the fire suppression system in preventing the spread of fire is powerful for a highly regarded environment in high risk of fire.
Each type of substance that fire protection systems can utilise has its own character and strengths. As a fire can happen anytime, anywhere, it is important that we put in place the necessary forms of protection that we have available in the event of a disaster happening. Engaging in a Fire Safety Manager (FSM) to determine the best system fit for our premises can save us a lot by putting in operation our first line of defense and protection. A qualified and experienced FSM will also periodically check the validity and operational feasibility of your fire extinguisher and make sure that you are ready when a fire breaks out.
Author: Christian
This author has published 17 articles so far. More info about the author is coming soon.